Crukings Successfully Ignited & launched CK-J85D Fully Hydraulic Medium-sized Mobile Jaw Crusher
Published at 10:42:02 January 01, 2021
CRUKINGS
CK-J85D fully hydraulic crawler mobile jaw crusher is now on the market
On 25th May 2021, Guangxi Crukings Machinery Equipment Co., Ltd. (Crukings), a subsidiary of Guangxi Mesda Group Co, Ltd (Mesda), successfully ignited and launched CK-J85D Fully Hydraulic Medium-sized Mobile Jaw Crusher in Nanning, Guangxi, China.
Mesda's leaders and staff representatives attended the ignition ceremony to witness the latest innovation achievements.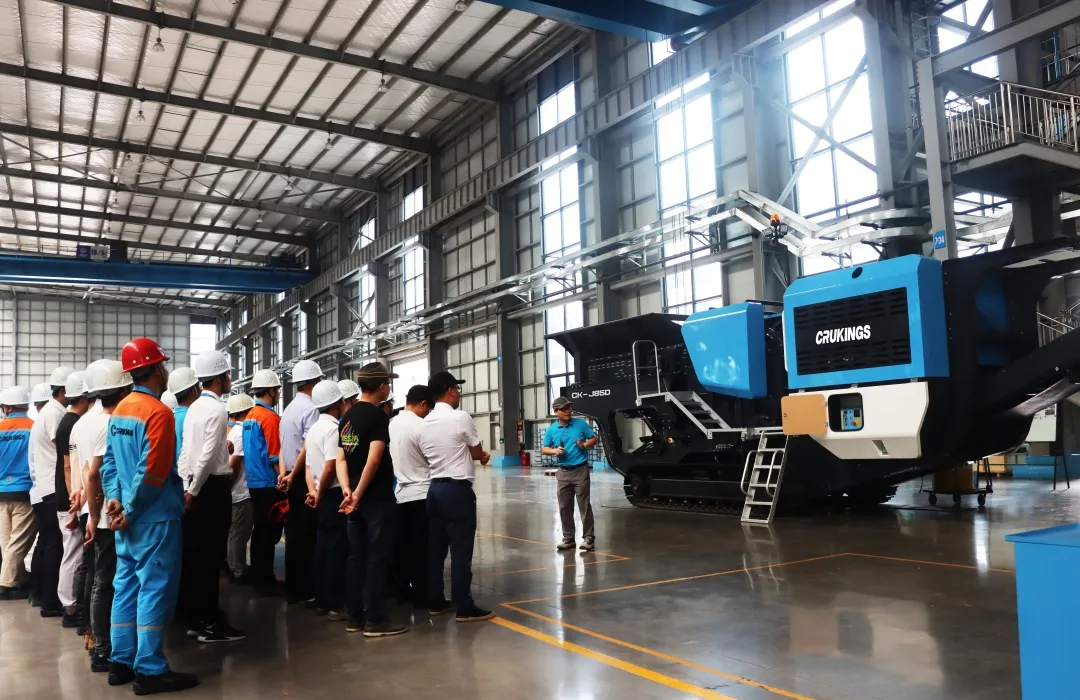 At the ignition ceremony, Xiaoju Song, Mesda's vice president and Crukings' general manager, introduced the new technology achievements. Based on the previous technical platform, Crukings made breakthroughs and designed this new product to meet customers' lasted requirements. It is a medium-sized mobile crusher between CK-J70D small jaw crusher and CK-J106D large jaw crusher. This product has a capacity of 35-100 tons per hour and can work for a wide range of applications. It can be widely used in the reconstruction and expansion projects of rural roads, the updating projects of changing the cement roads to the asphalt roads, the other small and medium-sized infrastructure projects, etc. The product adopts a full hydraulic drive mode and is equipped with a load sensitive system, which can automatically adjust the feeding speed to meet the production requirements, protect the machine and improve its reliability. Crukings also offers the optional remote monitoring intelligent system for this product. The customers can use this system to monitor operations of the equipment through mobile phones at any time and place, which is time efficient and labour-saving.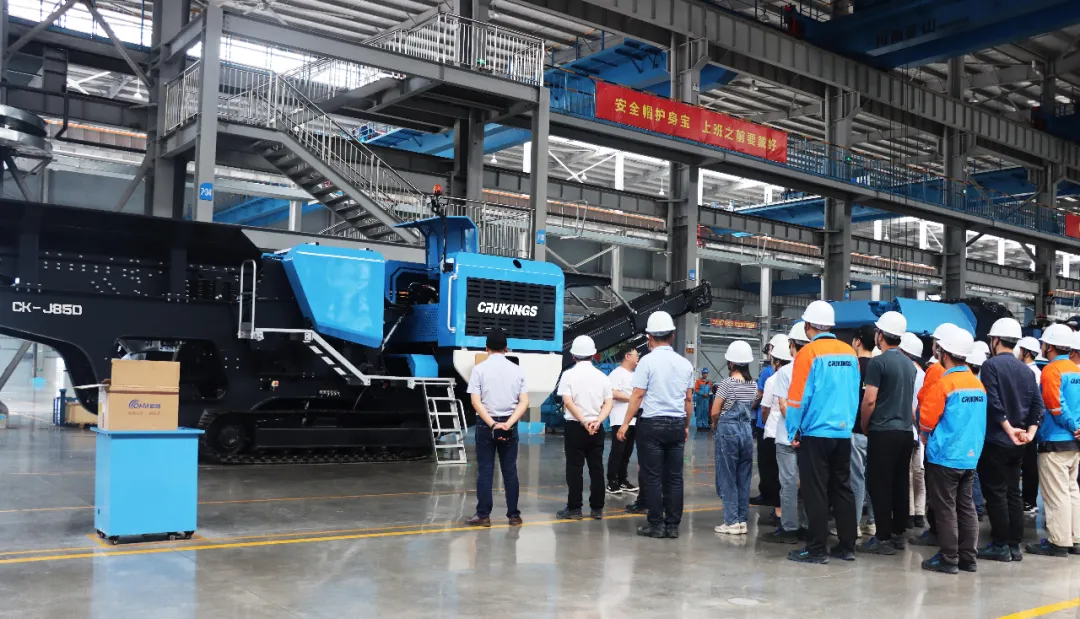 Mesda's chairman Mr Kanghua Huang said, "a good product needs to be proved for different applications and working conditions. Mesda is market-oriented and customer-oriented. We change, innovate, and responds to customer needs as quickly as possible. Now Mesda has become one of the top enterprises who develop the advanced technologies of crushing and screening in China. CK-J85D is the best proof of MESDA 's R&D ability. In future we will develop more high-quality products to meet the needs of various customers' and create greater value for them!"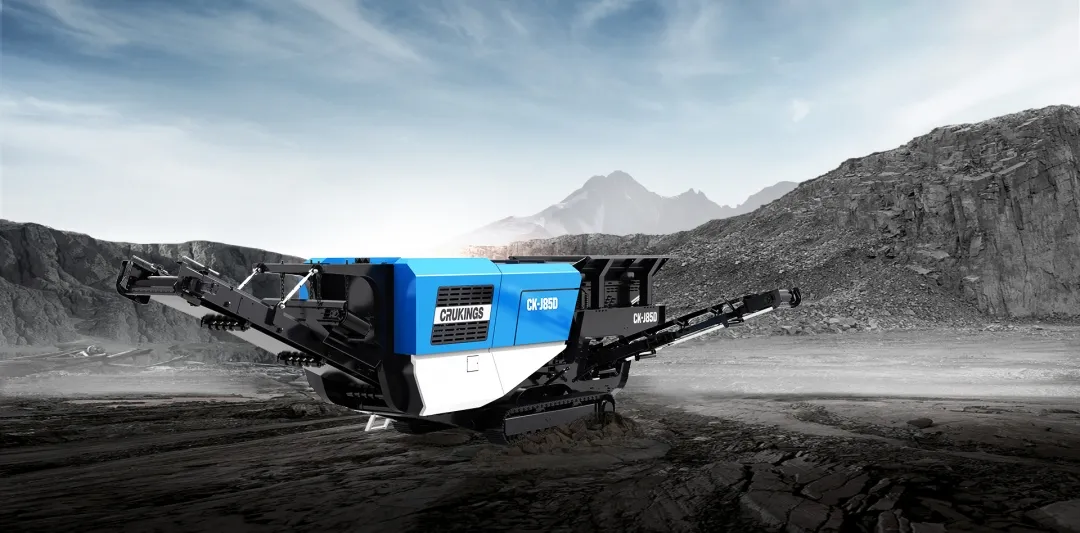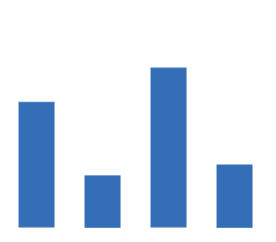 Technical Highlights:
Crawler Mobile Jaw
Crusher CK-J85D
o

Fully hydraulic direct drive, large torque, can start with load;

o

Closed-loop hydraulic system, more efficient;

o

Load sensitive system, intelligent real-time monitoring system;

o

Can collect big data via Internet, remote monitoring and positioning;

o

Large and deep V-shape crushing cavity, high crushing ratio;

o

High-strength wear-resistant parts, long service life;

o

Pre-screening and high efficient crushing box, high productivity;

o

Three control modes, flexible, safe and convenient.
(Wireless Remote Control + Wire Control + Panel Control)
Technical Parameters: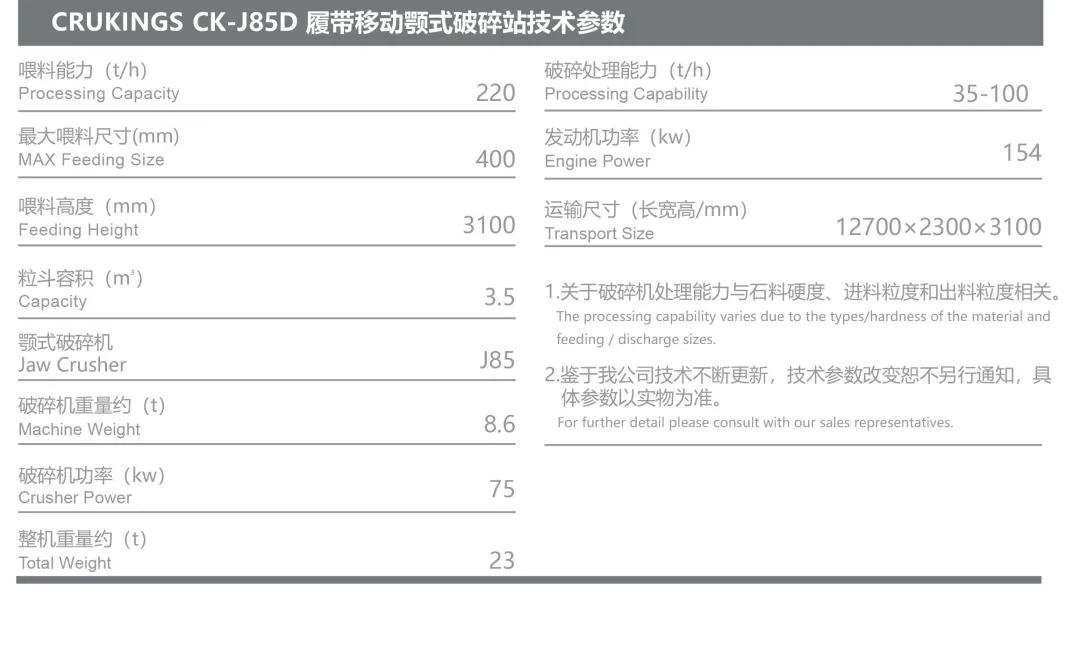 Included in topic #Previous article next articleReadingShare a collectionZan is watchingSynchronized to take a look and write down your thoughtsGo to "Discovery"-"Take a look" and browse "Friends are watching"Go and have a lookOpen the "See" entry in Settings-General-Discovery Page ManagementSendCK-J85D fully hydraulic medium-sized mobile jaw crusher successfullyy ignitedUp to 200 words, current total wordsPeople who like this content also like it
Creating High-end Intelligent Green Corey-Nanning TV Station reported that our company earnestly studied and implemented the spirit of General Secretary Xi's speech in Guangxi
Creating High-end Intelligent Green Corey-Nanning TV Station reported that our company earnestly studied and implemented the spirit of General Secretary Xi's speech in Guangxi
…
Critkins CRUKINGS
Don't like
Reasons for not looking
Determine
Low quality content
Don't look at this WeChat official account

WeChat sweeps and pays attention to the WeChat official account
WeChat sweeps and uses appletsCancel AllowCancel Allow